Université d'été of La Rochelle by E5T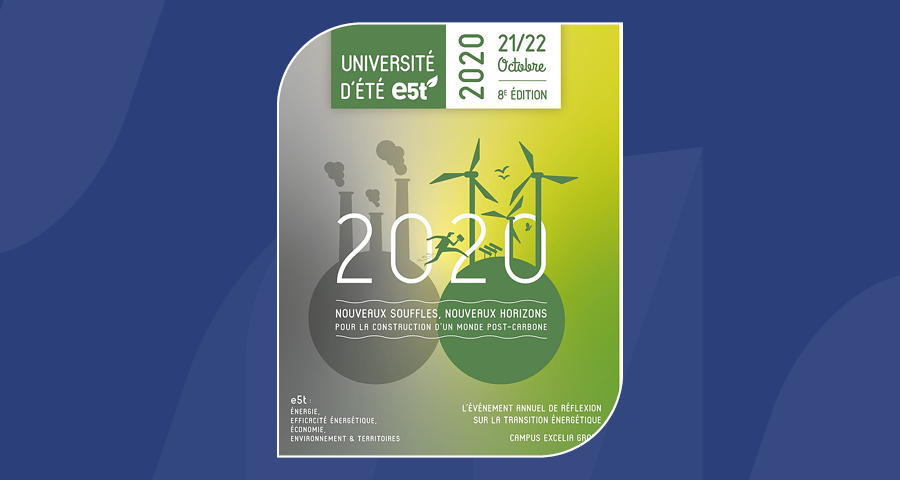 McPhy attends the 8th edition of the Université of La Rochelle by E5T
[19th October, 2020] McPhy will participate to the 8th edition of the La Rochelle Summer University organized by the E5T Foundation « Energy, Energy Efficiency, Energy Saving and Territories ». This University is a think tank about questions related to energy transition where the objectives are to understand all the issues but also to open new reflections on the subject. The event first scheduled for this summer has been reported for October and will be broadcast live on Vimeo platform. Supported by leading speakers, it will take place over two full days with a large subject: « new breaths, new horizons, to build the post-carbon world ».
Chaired by Myriam Maestroni – founder and president of the E5T Foundation and member of the Board of Directors of McPhy -, the summer school is an open platform that allows stakeholders of Energy and users to interact on issues related to energy transition. The exchanges promise to be rich, with a common objective of understanding all the energy issues and being the carrier of innovations.
A first round table will take place in the morning on 21st October and will be dedicated to the results and opportunities after the health crisis, then mobilization to decarbonize the economy. The afternoon will continue with a topic on nuclear energy, fossil fuels, the place of hydrogen in the recovery plan, renewable energies and finally, the « citoyenne et Zen » French convention by 2050. The next day, the stakeholders will discuss other issues, and in particular on habitat-community, transport, industry or agroecology, but also on funding and research for innovation. An exchange of knowledge and feedback that promises to be constructive for all!
« Beyond France, this is an European and world boost. The "clean energy" revolution is on its way, and hydrogen is central to achieving this post-carbon model of the world. »
Laurent Carme, Chief Executive Officer of McPhy, will speak on Wednesday 21st October during the round table at 3.20 pm on the theme "Storage and hydrogen in the recovery plan".
The recently announced French governmental plan devotes a significant part (a third of the plan) to energy transition, including a budget of €7 billions dedicated to the deployment of zero-carbon hydrogen in France by 2030. This massive plan will generate significant acceleration for the sector, and create the conditions to make France more competitive, at the technological and industrial forefront on the subject. Laurent Carme, Chief Executive Officer of McPhy, will share McPhy's views as a world leader in zero-carbon hydrogen, as well as the Group's vision and ambition, the latest projects and technological advances predicting the change in scale of zero-carbon hydrogen.
Information & Registration
| E5T Summer University | La Rochelle, October 21st and 22nd, 2020
| Round table with Laurent Carme, Chief Executive Officer of McPhy
"Storage and hydrogen in the recovery plan"
| In the presence of : Luc Poyer, Vice-president E5T (moderator of the round table), Pierre le Romancer, Responsible for the strategic storage plan of the EDF group, Paul Lucchese, Deputy Director of Capenergies, Adamo Screnci, Vice-president Business Unit Hydrogen of TOTAL, Frédéric Dejean, Industry Director Hynamics- EDF and Christophe Isnard, CEO Somelac
More information, program and tickets on : https://www.e5t.fr/
Follow the event on live : https://vimeo.com/event/373043