Light hydrogen refueling stations to start your hydrogen mobility
McPhy proposes two approaches for medium capacity hydrogen stations: a "starter kit" to initiate a hydrogen mobility project ; and a full range of larger hydrogen stations to contribute to the growth of zero-emissions mobility.
McFilling starter kit: 10 or 20 kg H2 / day, at 350 bar
McFilling starter kit:
10 or 20 kg of hydrogen per day, at 350 bar
This range is perfectly adapted to the needs of captive fleets (utilitarian vehicles) and to logistic platforms (lift trucks).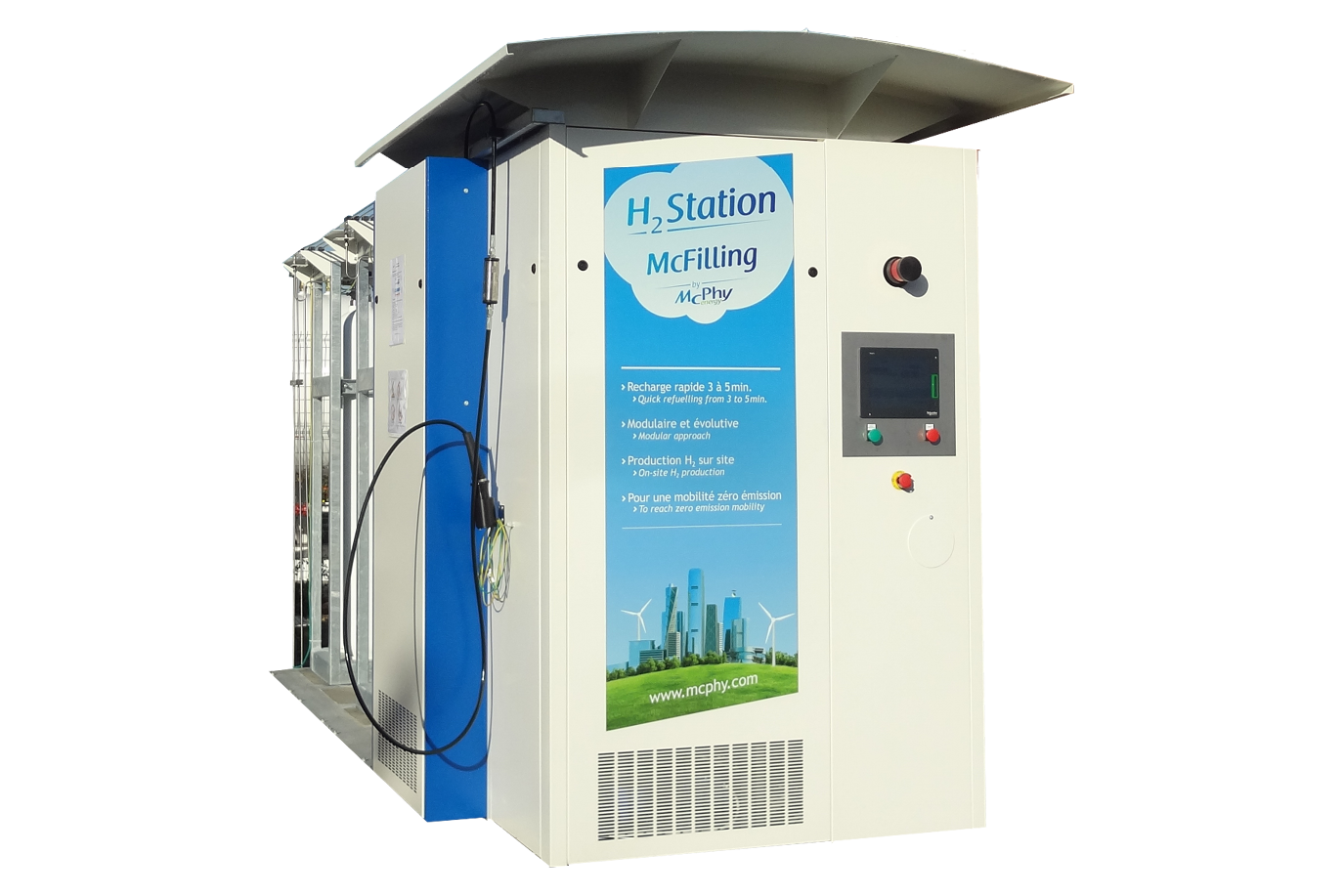 | | Nb kg H2 / d | Pressure (barg) | H2 source | Vehicles concerned | Back-to-back delivery (kg) | Footprint (m2) |
| --- | --- | --- | --- | --- | --- | --- |
| McFilling (10) / 20-350 | (10) / 20 | 350 | Delivered compressed H2 | Forklifts | Utility vehicles | > 6 kg | 11 m2 |
* "Back to back": number of possible consecutive full tanks 
Our products are CE marked, in full compliance with the European Union directives [machinery directive – 2006/42/EC | low voltage directive – LV 2014/35/EU | electromagnetic compatibility directive – EMC 2014/30/EU | pressure equipment directive – PED 2014/68/EU ].
They are also compliant with the SAE J2600 – J2719 standard.
Key assets of the McPhy hydrogen refueling stations
From 10 to 20 kg of hydrogen per day (per module)
Distributes 350 bar
Compact: modules with reduced floor space
Plug and Play : simple installation and use
Provision of support for the different processes and in setting up security on-site
All our products bear the CE markings and McPhy products are certified by technical inspection organizations such as the TÜV.
Additional high pressure storage: to increase the number of "back to back" recharges (number of possible consecutive full tanks)
Electrolysis on-site: on-site hydrogen production with the addition of a hydrogen generator
IR Communication
Customization: McPhy proposes different customization options for your hydrogen station
Remote monitoring/ Supervision: real-time monitoring of the performance of your station, via the digital service McVision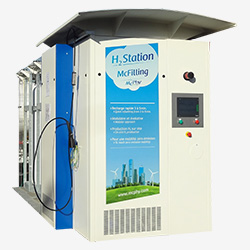 City of Paris
The French capital chose McPhy (with Idex acting as operator) to equip the first hydrogen station in Paris area. Located in Ivry sur Seine, our McFilling 20-350 was deployed in order to refuel the City's utility vehicle fleet. This station was inaugurated during COP 21 (2015).