Ease the large-scale integration of renewable energies
As the energy transition relies on the widespread adoption of renewable energy – which is in and of itself intermittent and difficult to predict – it has created a drastic increase in the need for flexibility and energy storage.
Power-to-Gas: massive storage in networks
It is possible to store surplus electricity produced by renewable, non-immediately consumed energies within existing gas networks.
This "clean" electricity is thus converted into hydrogen and injected into the networks to power multiple applications.
For more information, see our Power to Gas page.
Storage in a solid form – McPhy's founding technology
McPhy was created in 2008 around the breakthrough technology of energy storage in a solid form.
Initially based on magnesium and supplemented by low-temperature metal hydrides, the McStore technology has been successfully integrated into projects such as the industrial platform for the production of low-carbon hydrogen PUS (in Grenoble), or an eco-district powered by hydrogen GRHYD (in Dunkirk).
With ten years of research and innovation in storage technologies under its belt, including experience in producing and distributing hydrogen, the McPhy Group has acquired unique expertise in hydrogen technologies and has been validated in its choice to integrate and develop electrolysis technologies and its own hydrogen stations.
Despite the intrinsic qualities of storage in solid form and the good performance of McStore technology, the latter does not, at the moment, have a satisfactory business model. Its marketing was therefore discontinued in December 2018.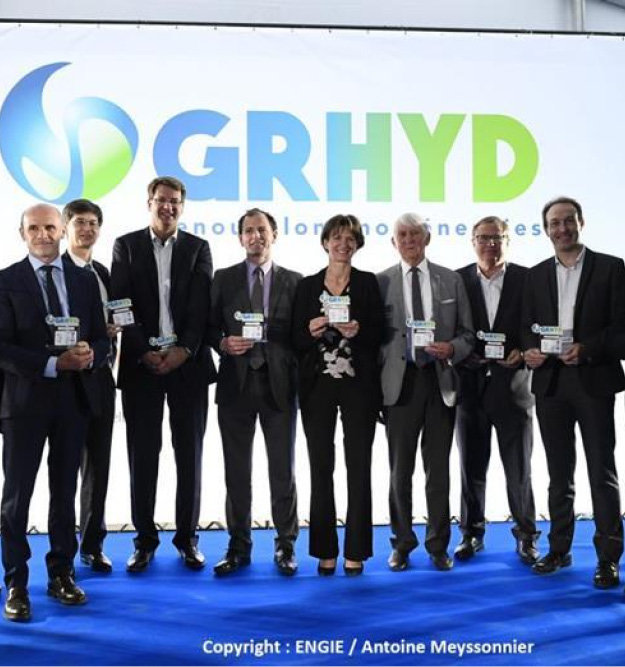 GRHYD | "Gestion des Réseaux par l'injection d'Hydrogène pour Décarboner les énergie"
Our solid-state storage solution designed by McPhy to the Grhyd project, the first Power-to-Gas demonstrator in France.