Energy storage
& Power to Power
Solar and wind farms, hydraulic dams – the irregularity of rhythms and the variations of production volume pose difficulties for balancing the networks ("how to meet market demand during slow production periods") and storing renewable energies ("how to recover surplus production"). Hydrogen checks all the boxes!
Whether you are energy producers or energy project developers in insular or off-grid locations (villages, eco-neighborhoods, etc.): with hydrogen carriers, you can store and recover your surplus production (MWh)
By transforming renewable source electricity into hydrogen, we offer energy producers the possibility of storing their excess production in the form of hydrogen, to later be used in the networks: mobility applications, heating, construction, industry, autonomous energy solutions, …
Ease the large-scale integration & increase the share of renewables in the energy mix,
Compensate the intermittence of renewable energies: respond to the needs of the grid, independent of climatic factors which can affect the production of renewable energies,
Match supply and demand through a supply of hydrogen, mobilized on request,
Deploy renewable hydrogen as a solution for the climate.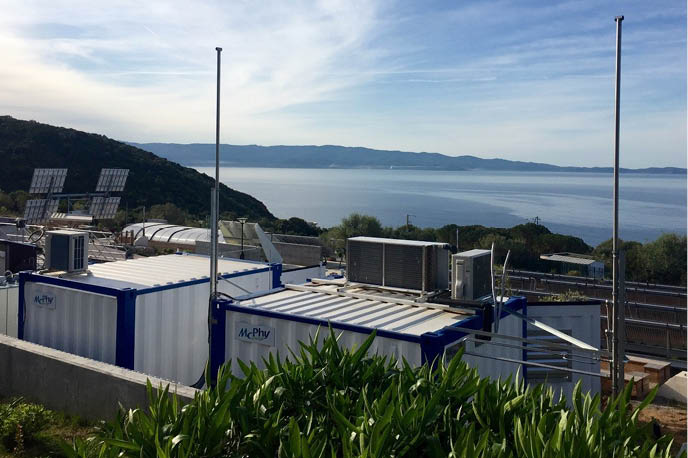 Paglia Orba | Université de Corse Pasquale Paoli – CNRS
Energy storage and Power to Power: a solution for autonomous energy
McLyzer: solutions for decarbonized hydrogen production
McPhy designs and puts into place global hydrogen systems with truly modular architecture, including:
A renewable hydrogen generator (electrolyzer)
For projects that require a comprehensive solution, including the reconversion of electricity with a fuel cell, McPhy counts on a network of partners.
Connected to renewable energy sources, this equipment allows the recovery of surplus renewable energies by generating clean, zero-emission hydrogen.
The McLyzer range is positioned as the ideal tool to stabilize the power grids confronted with a growing influx of renewable electricity and participates in primary and secondary reserves.
Instantaneous adaptability to power fluctuations in electricity from renewable energies,
System services participation (primary and secondary reserves),
High energy efficiency,
Economic competitiveness.
Its dynamic response to power fluctuations and its durability have long been demonstrated through data collected since 2014 on the "H2Ber" Power to Gas project in Berlin.
Designed by McPhy to limit their operating impact on the environment, these hydrogen generators combine a zero-loss purification unit with a closed-loop system to reduce the consumption of water to the strict minimum during its transformation into hydrogen.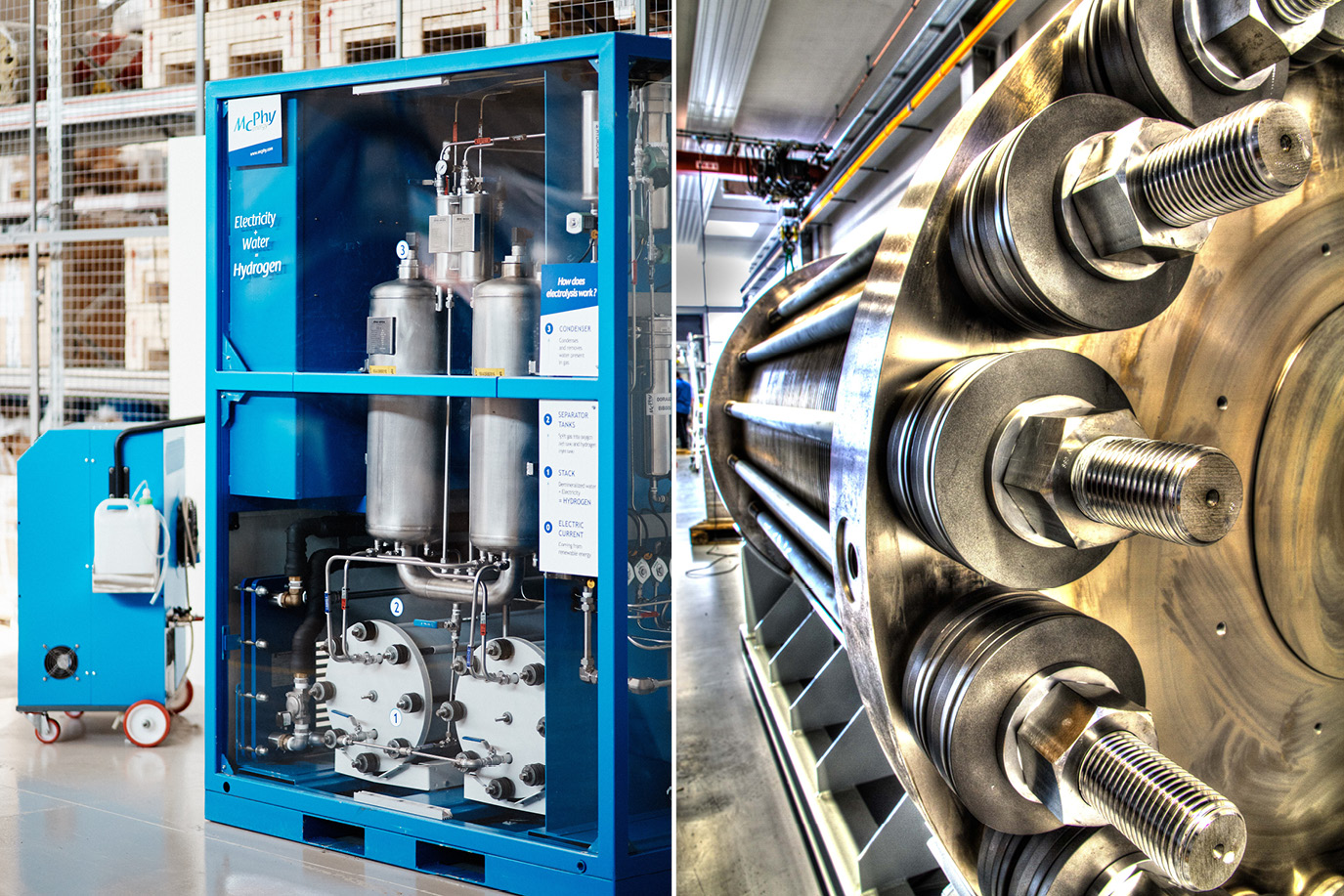 Large capacity
electrolyzers
McLyzer | 10 to 800 Nm3/h | 10 to 30 bar
Turns green electricity into clean hydrogen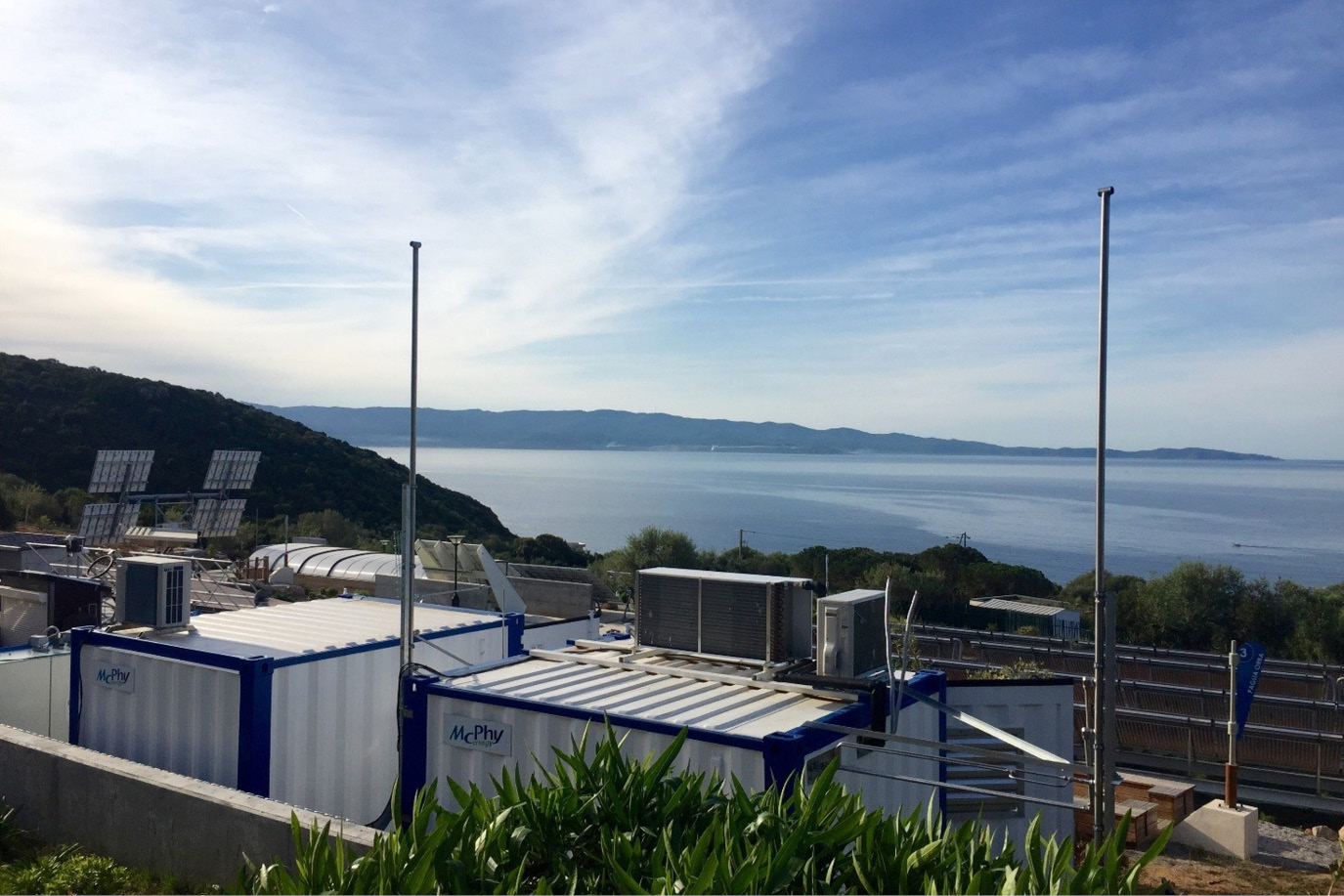 Paglia Orba
Hydrogen solution at the service of energy independence in an island environment. Full system to ensure energy autonomy and grid stability.