Our integrated-solutions approach
With expertise in the whole hydrogen chain, McPhy designs integrated hydrogen solutions for its Customers, specifically adapted and based on an in-depth analysis of their needs.
"Augmented hydrogen solutions"
To strengthen the attractiveness and profitability of clean hydrogen, McPhy relies on its capacity for research & innovation, backed by a premier industrial infrastructure.
RESEARCH & INNOVATION: Constant technological innovation, enhancing your performance
DESIGN & ENGINEERING: Modularized and scalable systems
MANUFACTURING & COMMISSIONING: A premier industrial infrastructure
CUSTOMER PROCESS: A "value creation" approach

Experts on your hydrogen project from A to Z:
a strong value-added position
McPhy uses its hydrogen expertise to propose turnkey projects to its Customers: from the design to the installation, through the manufacture of hydrogen production equipment / recovery.
Working in collaboration mode, our teams provide support throughout all of the phases of your project:
Research and development: steering innovation and continuous improvement
Engineering: the systems engineering phase allows us to propose configurations for mono products, McPhy multi products or interfaces with partner solutions.
Production: equipment manufacturing
Project management: a multi-disciplinary service – a dedicated McPhy contact is assigned to your project.
Commissioning: delivery and installation on-site for the Customer, test before final commissioning.
After-sales: once the solution has been delivered and tested, our Customer Service Center proposes a complete range of services: management of after-sales reports, supervision tools, etc.
As a partner in your project, our knowledge of the industry allows us to put you in contact with the most useful collaborators for your project.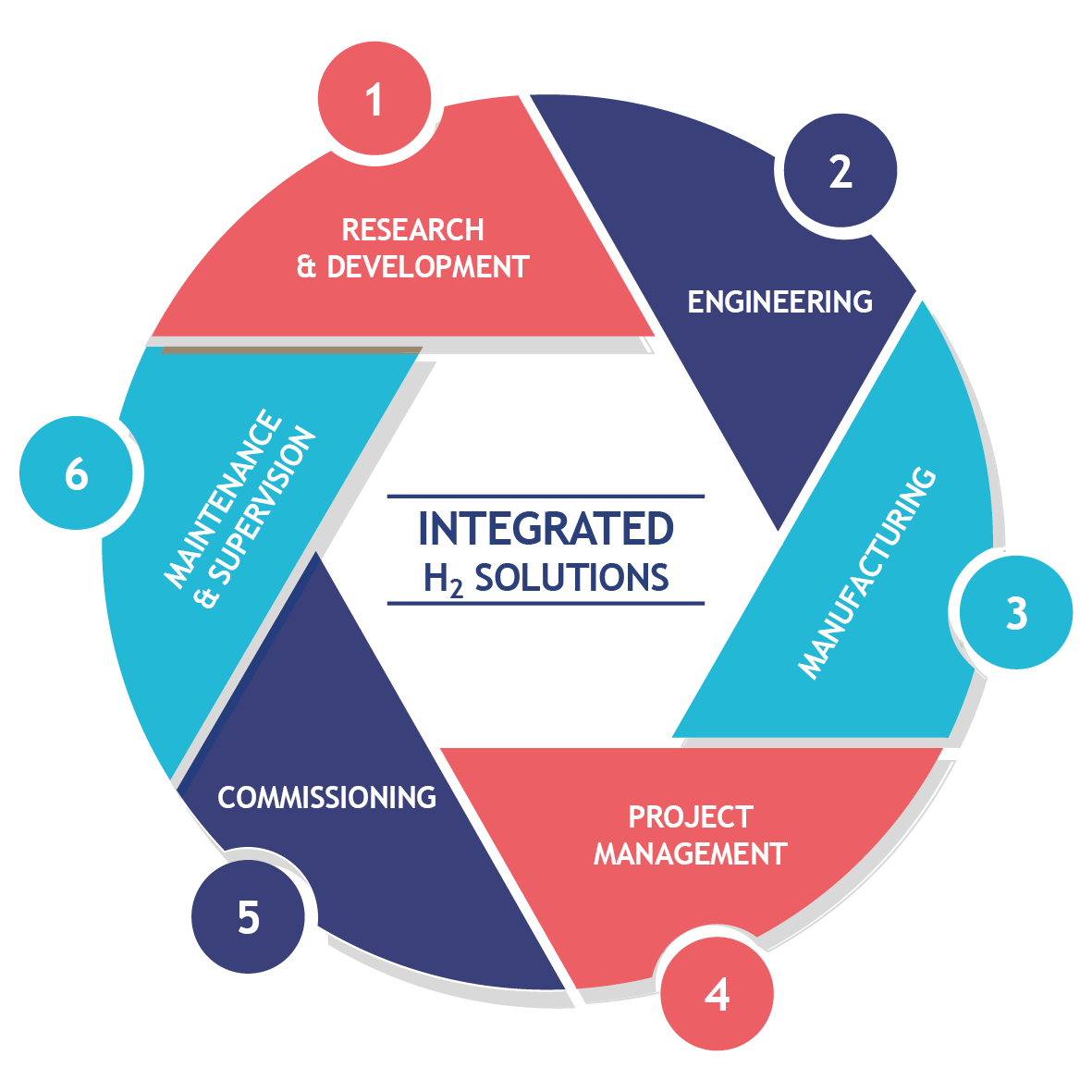 Our teams work hand-in-hand with you to ensure your success.
Experts on the whole H2 value chain:
offering you integrated system-solutions
As a designer, manufacturer and integrator of hydrogen solutions, McPhy is a leading company in the implementation of hydrogen projects. A well-known expert in all technologies, McPhy has a unique position on the market and proposes complete, integrated solutions: hydrogen production equipment and valorization.