Solar, wind, hydroelectric… the energy transition relies on renewable energies. Given the massive deployment of these energy sources, which are by nature intermittent and difficult to predict, the use of hydrogen is seen as a flexible and competitive solution.
Thanks to hydrogen as an energy carrier, energy companies and energy project developers can store and reuse their production surplus (MWh)
With the rise of renewable energies, the smoothing and storage of surplus energy are proving challenging for grid operators. By transforming the electricity from renewable sources into hydrogen, we give energy companies the possibility to store their surplus production in the form of hydrogen which can later be used for transport, heating, construction, industry, energy independence…
Two approaches are possible:
Power-to-Power technologies which go beyond the conversion of electricity into hydrogen by reconverting the hydrogen into electricity.
Power to Gas which consists in replacing a proportion of the gas (up to 20% in gas networks) by hydrogen, and thereby raising the proportion of renewables in the energy mix.
Hydrogen energy solutions enable you to:
Flexible hydrogen solutions for a successful energy revolution
Facilitate the large-scale integration and increase the proportion of renewables in the energy mix
Overcome the intermittency of renewable energies: meet network needs regardless of weather conditions which may alter the production of renewable energies
Balance supply and demand thanks to a hydrogen stock which can be tapped into on demand
Offer a reliable energy reserve for isolated or off-grid sites (e.g.: Islands), as well as for back-up solutions and/or energy independence (buildings, telecoms antennas, data centers…)
Roll out renewable hydrogen as a solution to the climate problem.
McPhy's market position and technologies
Electrolyzers are highly flexible consumers of electricity and can provide the smoothing services required for the grid.
As an industry leader, McPhy is active in the energy market with references pre-dating the scaling up of the market. This is particularly the case with the Jupiter 1000 Power to Gas demonstrator at Fos-sur-Mer, the first MW-scale PtG project in France; or the electrolysis facility for the Audi "E-Gas" plant in Werlte, Germany, installed in 2013; or even the 4 MW solution in Hebei, China.
McPhy is working on these projects alongside lead industrial players, such as EDF, ENGIE, GRTGaz, Enel, EnBW or Enertrag. McPhy also designs turnkey solutions to turn surplus electricity production into zero-carbon hydrogen.
McLyzer: Decarbonized Hydrogen production solutions
McPhy designs and produces global hydrogen systems, a truly modular hydrogen architecture including:
A clean hydrogen generator (electrolyzer)
For projects requiring a complete solution which includes energy conversion using a fuel cell, McPhy relies on a network of partners.
The McLyzer range is the ideal tool for stabilizing electricity grids faced with the growing influx of electricity from renewable sources and to participate in primary and secondary reserves.
McPhy designed these hydrogen generators to limit the impact of their operation on the environment. They feature a zero-loss purification unit and a closed-loop electrolysis unit to reduce water consumption to a strict minimum during its transformation into hydrogen.
McLyzer & Augmented McLyzer
30 bar high-pressure alkaline electrolysis: According to your process pressure and with no additional compression
Dynamic and rapid response: Equipment perfectly adapted for combining with renewable energies, and qualifying for network services (primary reserve)
High energy efficiency
From 20 to 800 Nm3/h as standard
Discover our range of alkaline electrolyzers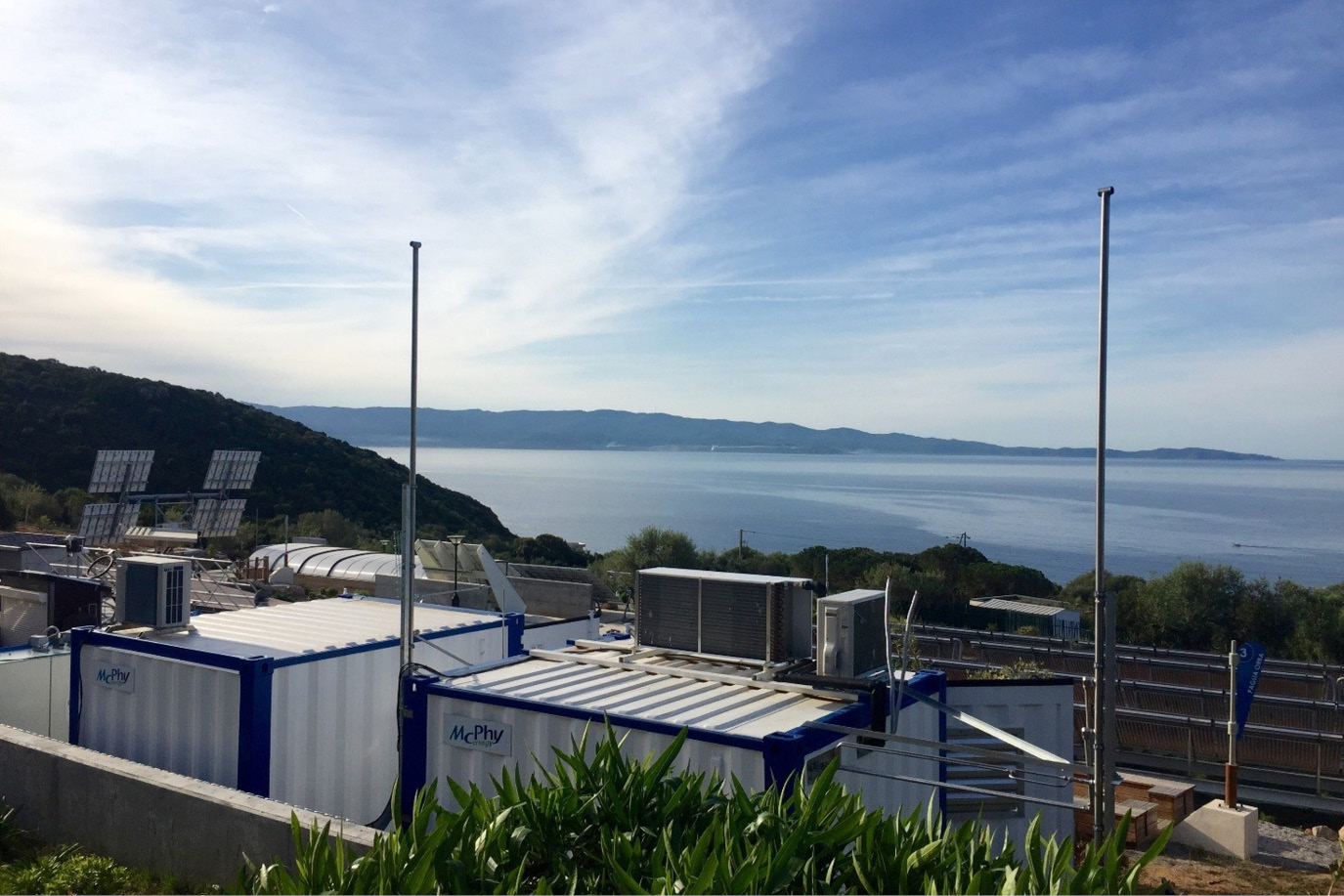 Paglia Orba
Hydrogen solution at the service of energy independence in an island environment. Full system to ensure energy autonomy and grid stability.