Hydrogen is widely used for its flexibility, its multi-sector applications and its energy efficiency. It is a strategic technology for the attractiveness and competitiveness of industrial enterprises. By replacing current carbon-intensive energies with low-carbon hydrogen produced by electrolysis using renewable energy sources, industrial enterprises are entering into a new low-carbon era.
A new low-carbon era:
Welcome to the industry of the future!
Used in industry for hundreds of years, hydrogen has seen its use increase in the following sectors:
Chemistry (refining, methanol, synthesis of ammonium hydroxide)
Food-processing (oil production)
Jewelry (cutting, brazing)
Glass-making (optical fibers, flat glass)
Electronic components (fused quartz)
Metalworking (cutting, welding, brazing, sintering)
Energy (cooling generators in thermal power stations)
Globally, industrial chemical and refining applications consume 85 million tonnes of hydrogen per year*. Almost all of this volume is produced from fossil fuels and manufacturing processes which are admittedly emitting ten kilos of CO2 per kilo of hydrogen produced.
McPhy provides manufacturers with low-carbon hydrogen to conciliate the challenges in terms of productivity, competitiveness and social responsibility
The low-carbon hydrogen produced from the electrolysis of water and renewable electricity offers manufacturers the possibility to create new forms of value: the decarbonization of their procedures, the creation of new processes and new markets, or the re-purposing of their polluting discharges.
Alternative solutions to on-site production consist in delivering hydrogen to the site in liquid or gaseous form. These supply logistics require frequent deliveries which are complex to manage and generate a high carbon footprint as well as significant costs. McPhy offers to replace this logistical challenge with integrated on-site hydrogen production solutions.
By producing low-carbon hydrogen on site, on demand, and according to their specifications (quantities, pureness), manufacturers are able to ensure the following:
Security of supply and energy independence (elimination of logistics restrictions)
Better control over costs
Reliability and continuity of service
Low-carbon hydrogen which dramatically reduces their CO2 footprint
Production in the safest conditions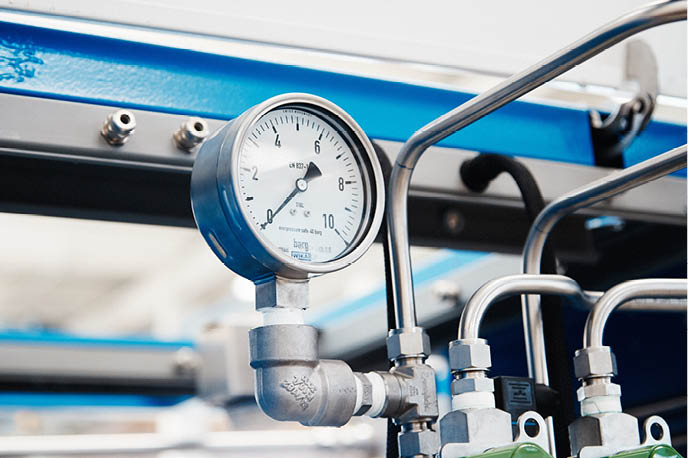 Qualified and selected by many industrial and/or gas management companies, our electrolysers fit perfectly into industrial systems,
regardless of size or industry.
McPhy's market position and technologies
McPhy is amongst the leaders in alkaline electrolysis, making it a forerunner in the industrial hydrogen market. In 2013, the Group installed an electrolyzer capable of powering the industrial processes of an Audi manufacturing site in Werlte, Germany.
Since then, McPhy has achieved fundamental commercial and technological milestones for preparing the way ahead, notably through its January 2020 appointment to supply the equipment for the Djewels project, the largest low-carbon hydrogen production site in Europe, boasting a capacity of 20 MW (3,000 tonnes of hydrogen per year).
With 193 MW of high-power electrolysis as references*, McPhy is truly a key player in the industrial hydrogen sector (ref. January 25, 2023).
Piel, McLyzer & Augmented McLyzer:
The production of industrial hydrogen on-site, on demand, according to your specifications
Specialists in alkaline electrolysis, the most approved energy production technology on the market, and with the lowest CO2 emissions, McPhy offers solid technological expertise.
McPhy offers the widest range of electrolyzers on the market. Our electrolyzers have been approved and selected by numerous industrial maintenance companies and/or gas management companies. They can easily be integrated into industrial systems whatever their size or sector of activity.
Generators of 0.4 to 800 Nm3/h as standard
Augmented McLyzer range for the 20 and 100 MW models and beyond
Various range of pressures: from 1 to 30 bar
For light applications (Piel) or continuous applications (McLyzer)
Some references in "light" industries: Bvlgari, Luxottica…
And some references on the scale of MW and multi-MW: Jupiter 1000, Audi, Djewels…
Discover our range of alkaline electrolyzers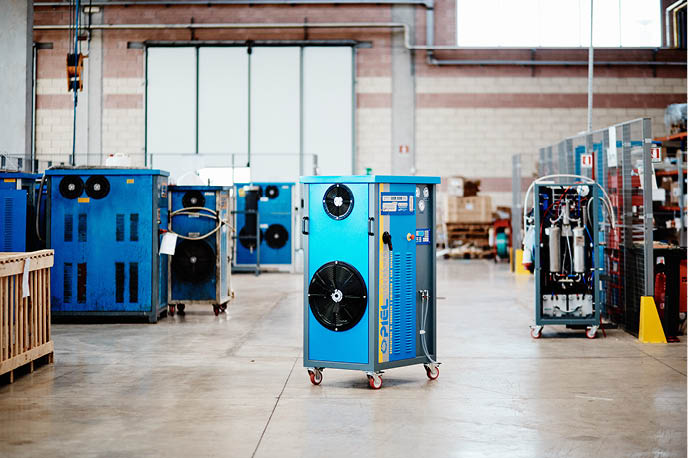 Electrolyzers | Small
Piel & McLyzer Small Line ranges
0.4 to 20 Nm3/h | 1 to 30 bar
Welding, brazing, electronics, meteorology, jewelry, 'light" industries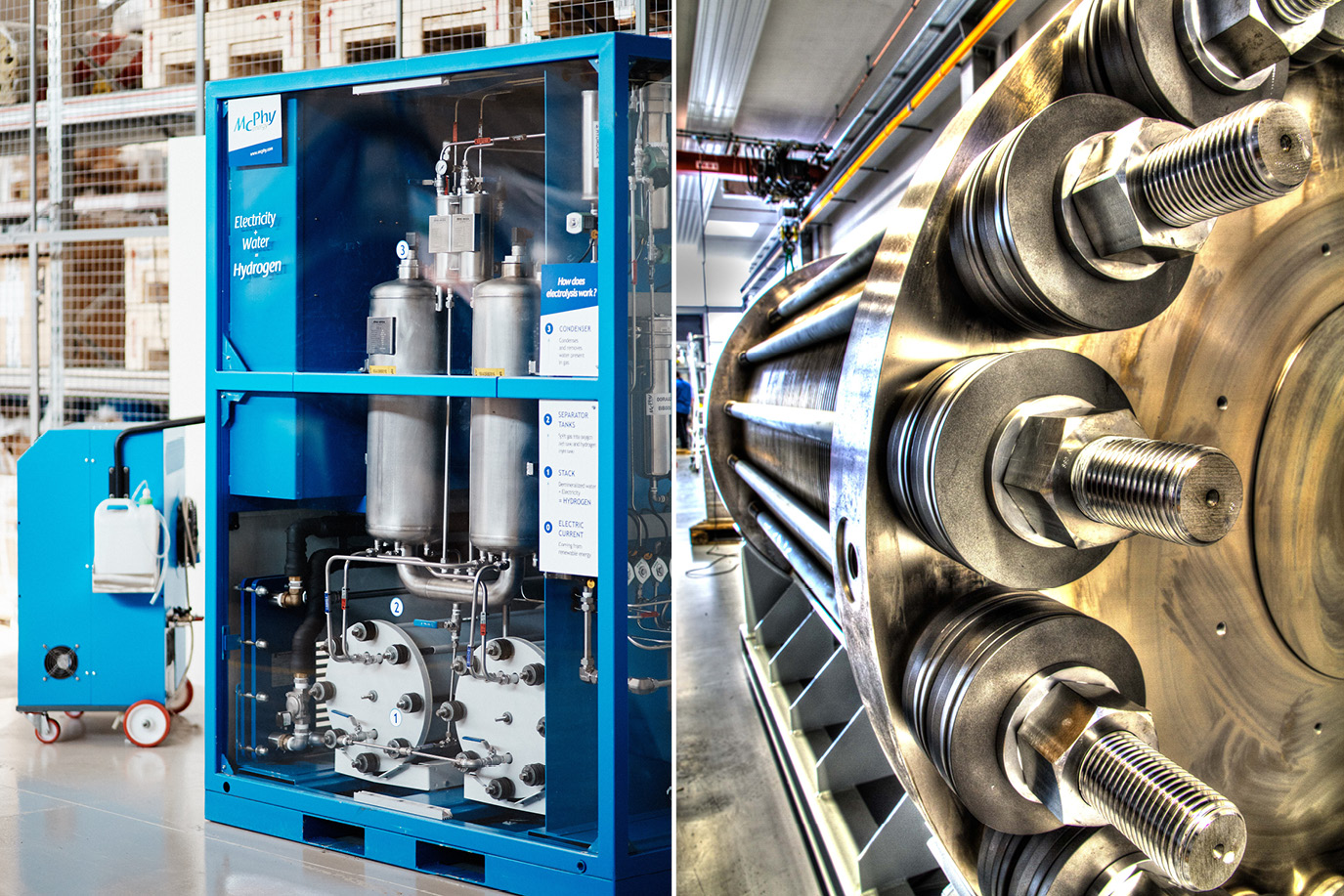 Electrolyzers | Large
McLyzer range
From 100 to 800 Nm3/h at 30 bar
Ideal for continuous applications or for the production of hydrogen in large quantities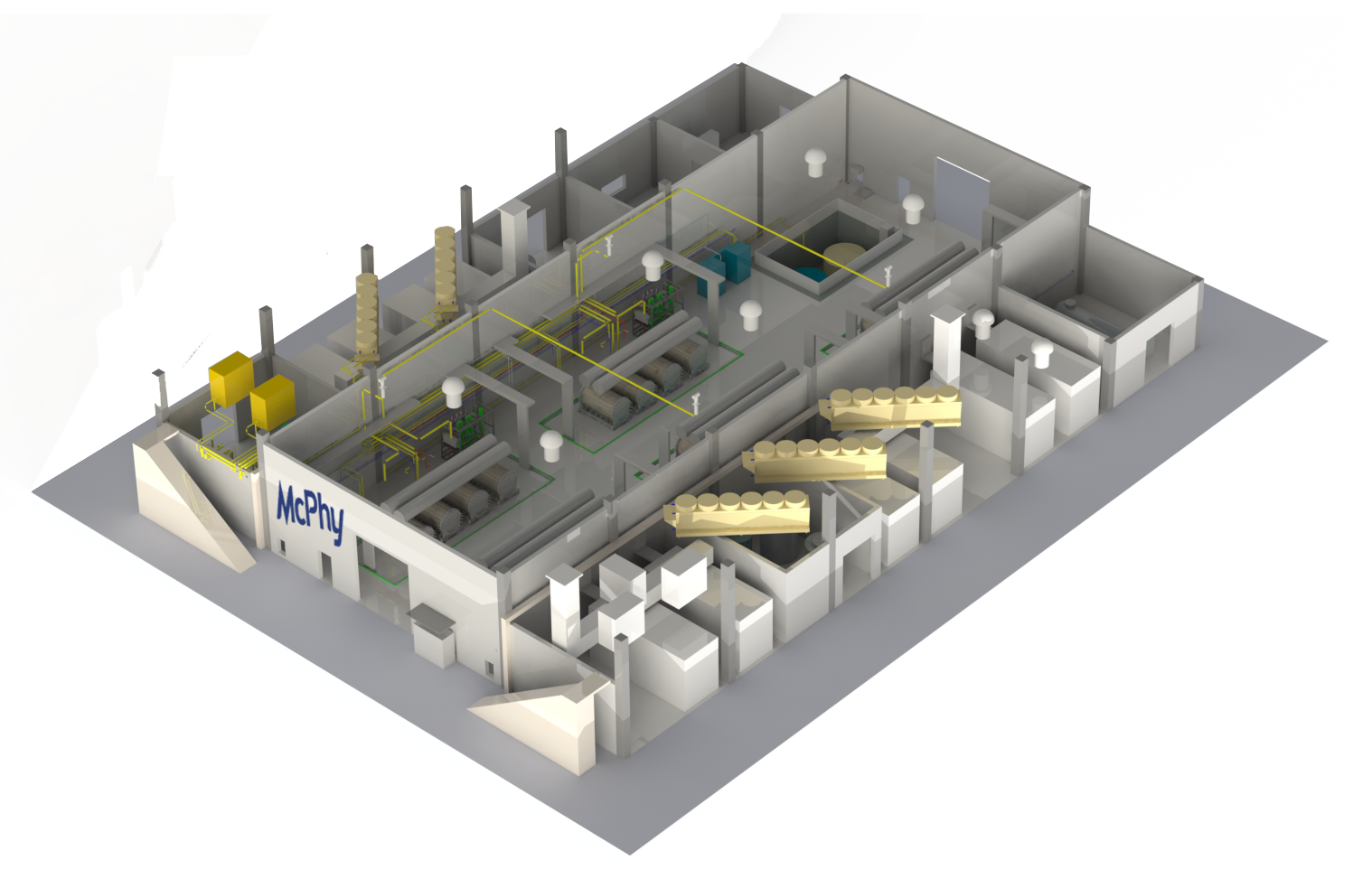 Electrolyzers | Augmented
Augmented McLyzer range
20, 100 MW and beyond, at 30 bar
Large-scale, low-carbon hydrogen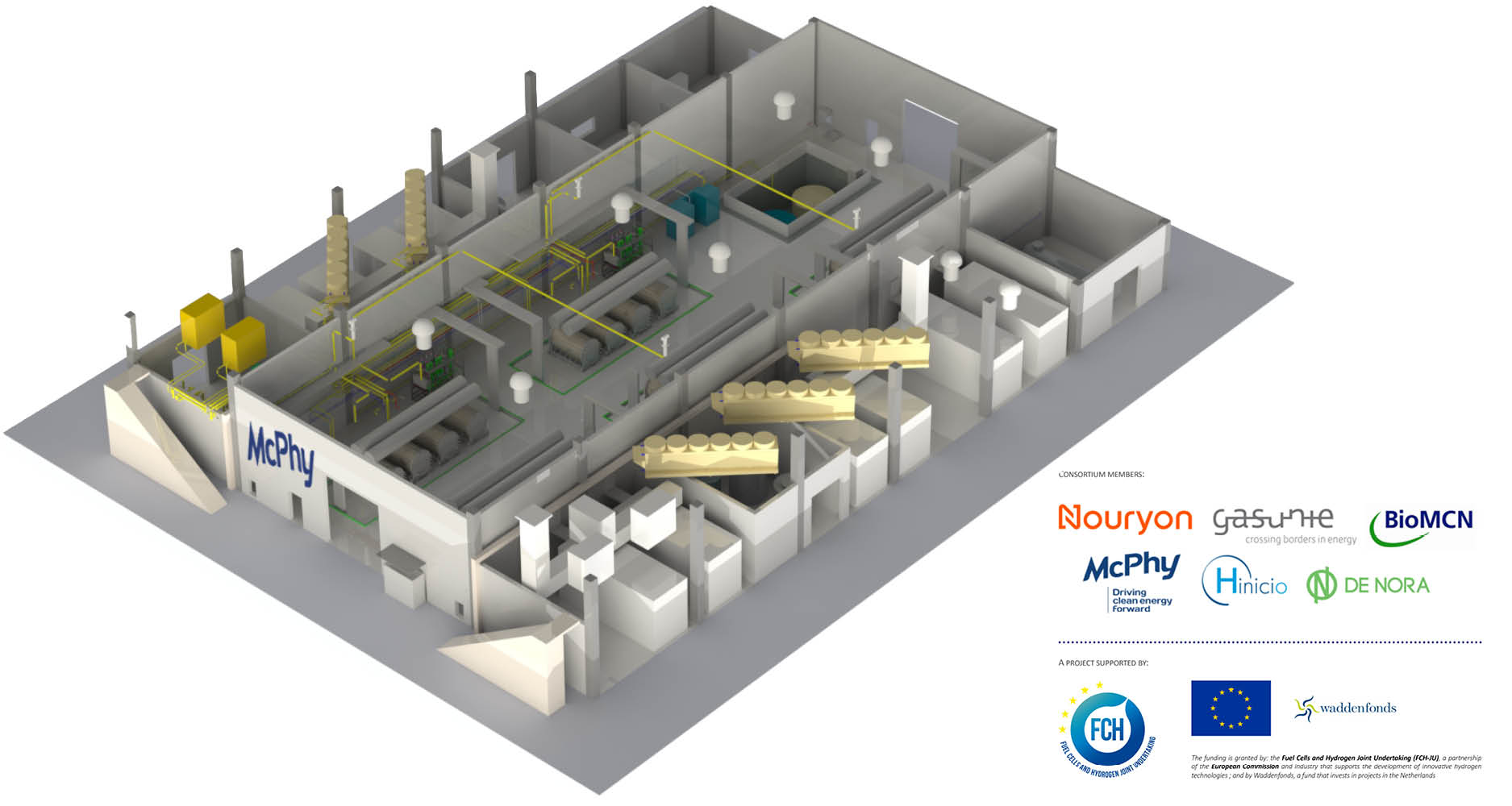 Djewels project (The Netherlands)
In early 2020, McPhy was chosen to install the largest industrial low-carbon hydrogen production unit in Europe.
It will offer an annual production capacity of 3,000 tonnes of low-carbon hydrogen (20 MW), avoiding 27,000 tonnes of CO2 emissions.
This project is led by Nouryon and Gasunie, two major industrial group based in the heart of a chemical park in the Netherlands; with the support of the European Union via the FCH-JU.
For more information on the Djewels project, see the article "Industrial Hydrogen: a 20 MW project in The Netherlands".
* 193 MW in reference, among which: 45 are signed projects and 148 MW for which McPhy has been selected as preferred partner
"Signed projects": orders with signed purchase orders
"Preferred partner": preferred partner and subject to the project's success