SMT AG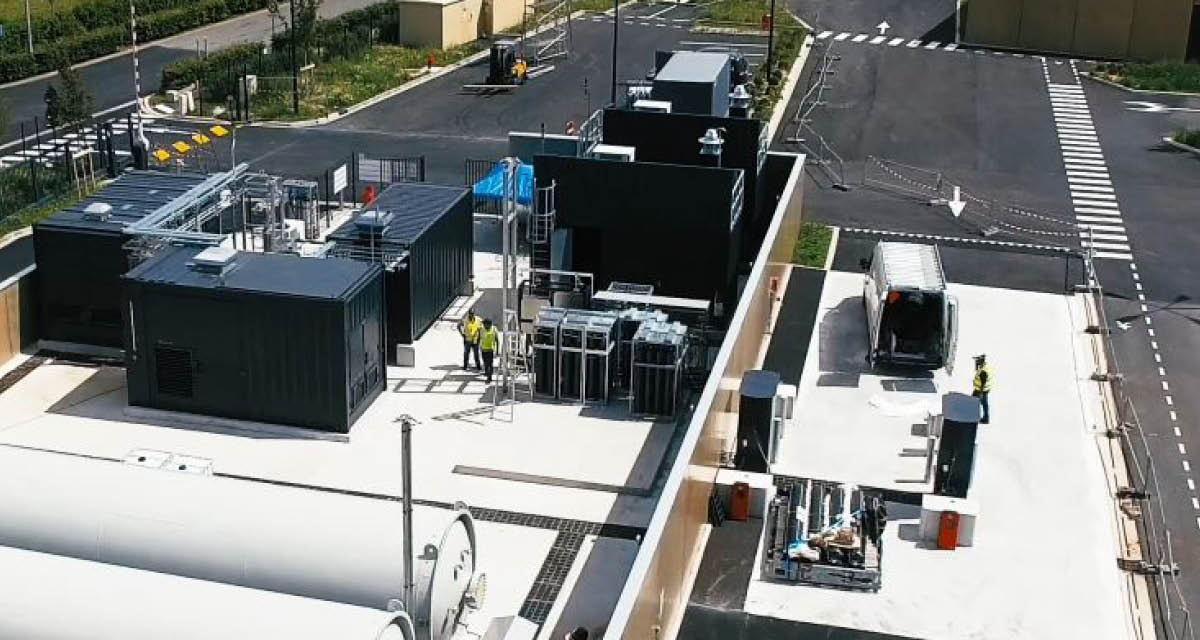 First hydrogen station connected to an electrolyzer
dedicated to public transport in France
A pioneering zero emissions mobility project for heavy transport in France. The "Syndicat mixte des transports Artois-Gohelle" (SMT AG) is launching the first 100% hydrogen bus line and its dedicated station, the precursors of the "zero emissions mobility" revolution, which is spreading in France, Europe and worldwide.
• Fleet of 6 buses powered by a 200 kg/day station connected to 0.5 MW of electrolysis
• Design: Compression redundancy, two distribution units
• 0.5 MW of electrolysis divided into three containers
• Shared Balance of Plant (BOP): support components and auxiliary systems
• Aerial piping system
• Béthune, France | Commissioning: 2019
McPhy technologies equip the entire production and distribution chain of clean hydrogen.
McPhy was selected for the project of the first station for hydrogen bus refueling in France. It will provide clean fuel for the six hydrogen buses that will be deployed on the new High Service Level Bus line that will connect Bruay-La-Buissière to Auchel (Hauts-de-France Region).
Our McLyzer and McFilling technologies are used in this innovative project. Clean hydrogen will thus be produced on site by electrolysis, (from guaranteed renewable electricity from France), before being distributed by the station. After fifteen minutes of recharging, the buses will have a range of more than 300 km.
In its current configuration, the McPhy solution can produce and deliver up to 200 kg of clean hydrogen per day. Its capacity can be increased by 30%, without modifying the total surface area of the installation, if the future needs of the SMT AG require it.
"With our technologies and products, we are contributing to this first-of-its-kind in France, which enables us to set up the first McPhy station for hydrogen buses in the Hauts-de-France region. With state-of-the-art research and innovation and a leading industrial infrastructure, McPhy brings its expertise in hydrogen production and distribution. Our McLyzer electrolyzer will produce on site and from renewable electricity of certified French origin supplied by ENGIE, the clean hydrogen for a high-capacity McFilling hydrogen refueling station with a high service rate. The public transport sector is in the midst of a revolution. By opting for hydrogen mobility, the SMT AG is combining passenger comfort and service continuity while helping reduce atmospheric pollution and improve public health." | Pascal Mauberger, Chairman and CEO of McPhy
| Markets
Hydrogen mobility
H2 in the territories
Learn more about the H2 applications in the section: "Markets".
| Equipment & Services
McLyzer 100-30
McFilling 200-350
Learn more about the solutions in the section: "Equipment & Services".
| Client
Engie GNVert
Location: Houdain (France)
Commissioning: 2019
Read the press release
Photo credit: ENGIE Cofely – Photographer Arnaud Février