Hydrogen Business for Climate Forum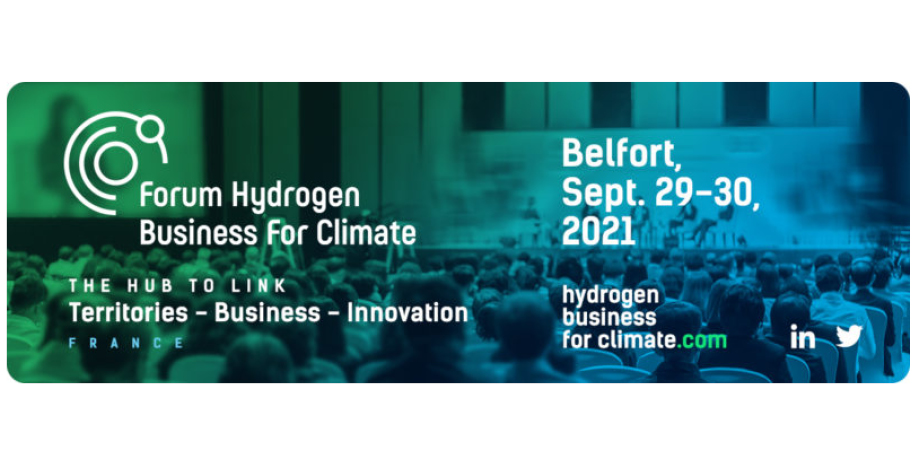 1st in-person edition of the Hydrogen Business for Climate Forum
McPhy is proud to be one of the sponsors of the Hydrogen Business for Climate Forum, an international event that aims to make the hydrogen energy transition a reality in France, and in Europe.
This event is scheduled to take place on September 29th & 30th, 2021 at the ATRIA of Belfort by the Pôle Véhicule du Futur and its partners, the Regional Economic Agency of the Bourgogne Franche-Comté Region, the ADN FC, the CCI and the FC Lab, and with the support of the State, the Bourgogne-Franche-Comté Region, the City of Belfort and the Agglomeration of Belfort.
Hydrogen: the solution to make the energy transition happen in Europe
McPhy will join more than 30 international experts from the industrial, academic, and political world attending the forum. An interesting opportunity for McPhy to share its vision of hydrogen as the solution to combat climate change and help its implementation in Europe.
Through a 2-day program, the Hydrogen Business For Climate forum aims to promote exchanges and cooperation between the various actors present to accelerate the implementation of concrete solutions for the development of hydrogen in Europe
2 days, 5 plenary sessions to move forward, and 8 workshops to build!
Energy transition, mobility, industrialization, storage, development… The Hydrogen Business For Climate forum organizes 5 hydrogen-related conferences. The aim is to allow experts to share their vision and experience. They will also particpate to workshops about different topics led by specialists and guests.
Moving to gigawatts: hydrogen on an industrial scale
Antoine Ressicaud, Chief Manufacturing & Procurement Officer of McPhy, will host a conference on Wednesday September 29 from 4 pm to 5.30 pm: Plenary # 03 "Industrialization: going forward with gigafactories".
This is the opportunity to provide an update on current projects, a possible cooperation between states and the importance of reindustrializing Europe through hydrogen.
It should be remembered that McPhy announced on May 20, 2021 that it had pre-selected Belfort to set up its electrolyser Gigafactory there by 2024 (see the press release).
Antoine Ressicaud will speak alongside Capella Festa COO de Genvia, Phillipe Boucly President of France Hydrogène, Mohammed Ghazali Secretary General of the Ministry of Energy, Mines and the Environment, Ignacio Morandé Chile's Tarde Commissioner to France and Karine Vernier CEO of EIT INNOENERGY France.
Florent Baudu, Sales Director Industry Market of McPhy, will also host a workshop on the subject of "Industrial hydrogen" on Thursday, the 30th of September, from 2 p.m. to 3 p.m.
Florent Baudu will speak alongside Matthieu Guesné, Founder of Lhyfe, Bruno Lestrade, Customer Relations Officer of GRTGAZ, Carina Krastel, Sales Director of the European Green Hydrogen Acceleration Center (EGHAC) and Julien Poillot, Director of innovative projects of VICAT.
Info & Registration

| Forum Hydrogen Business for Climate
29th & 30th September 2021, Belfort
L'ATRIA Avenue de l'Espérance, 90000 Belfort | Booth N°G1
| Plenary #03: 29th of September, from 4 pm to 5.30 pm
"Industrialization: going forward with gigafactories", Antoine Ressicaud, Chief Manufacturing & Procurement Officer of McPhy
| Workshop #04: 30th of September, from 2 p.m. to 3 p.m
"Industrial hydrogen", Florent Baudu, Sales Director Industry Market of McPhy
For more information and registration :
Registration: https://hydrogenbusinessforclimate.com/contact/
Information: https://hydrogenbusinessforclimate.com/