H2 Days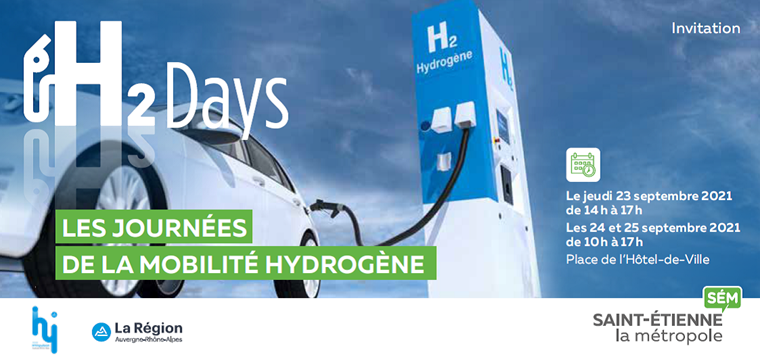 H2 Days, hydrogen mobility days
McPhy will attend the "H2 Days: hydrogen mobility days", organized by Saint-Etienne Métropole at "Place de l'hôtel de Ville" in Saint-Etienne from September 23 to 25, 2021.
Hydrogen in the spotlight during sustainable development week
Equipment exhibition, visits, activities … organized at the same time with the Sustainable Development Week, the "H2 Days" of Saint-Etienne aim to promote the hydrogen sector and its regional players.
Pierre Lombard, Sales Manager of McPhy, will speak at a round table on September 23 "Hydrogen mobility in Saint-Etienne Métropole: it is (soon) possible!" and introduce McPhy.
Info & Registration

| H2 Days
23-25 Septembre 2021, Saint-Etienne
Place de l'hôtel de Ville 42000 Saint-Étienne
| September 23 – 3.30PM
"Hydrogen mobility in Saint-Etienne Métropole: it is (soon) possible!", Pierre Lombard, Sales Manager of McPhy
For more information and registration: https://www.saint-etienne-metropole.fr/