The "Hydrogen 4 climate action" Conference at the European Commission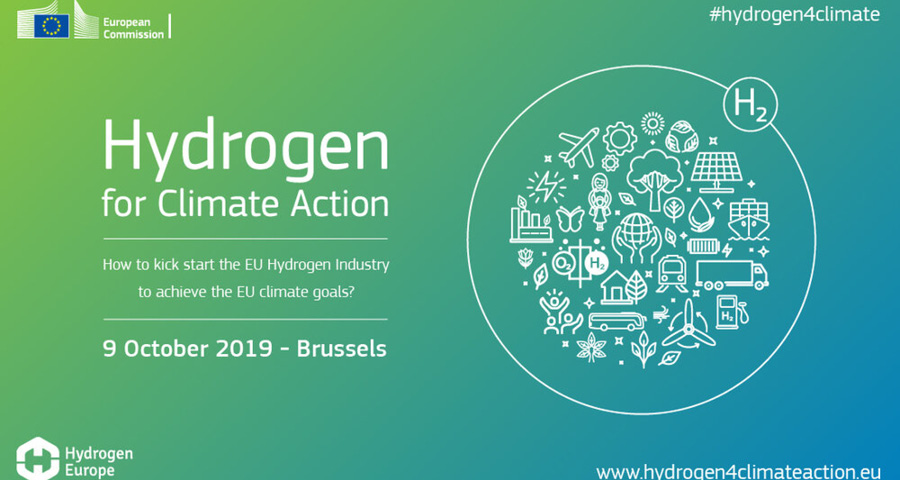 How to kick start the EU Hydrogen Industry to achieve the EU climate goals?
McPhy is invited to the "Hydrogen 4 climate action" Conference on October 9, 2019 in Brussels – Belgium.
Organized by the EU Commission, DG grow and Hydrogen Europe, its main focus is to kick start an EU hydrogen industry, in a common interest of Europe's Member States.
The strategic role of hydrogen in meeting the contemporary economic, environmental and societal challenges is well established. Europe now intends to identify the areas that are ready to accelerate the deployment of available technologies in all related sectors.
The event will provide an overview of existing initiatives, describe activities in various European regions, present significant projects of common European interest currently being developed, create a launchpad platform to integrate further similar initiatives all over Europe.
Pascal Mauberger, Chairman and CEO of McPhy will answer during the CEOS high level panel discussion to the question "Hydrogen: why now?"
at 2:50 pm.
We invite you to follow the conference, which will be broadcast live on
https://webcast.ec.europa.eu/hydrogen-for-climate-action
(2:50 pm)
Wrap up!
This event was a full success: over 450 stakeholders from all across Europe attended the event and 1366 followed the web streaming.
Among the key highlights:
IPCEI: 60 billion € investment, will save 35 million tons of CO2 emissions per year. The conference kick-started the work on the Important Projects of Common European Interests (IPCEI). The IPCEI is one of the most important tools to upscale the European Strategic Value Chain (SVC) on hydrogen technologies and systems, seen as a key sector in the EU, notably for its expected contribution to achieving the EU climate objectives. The projects presented during the event will mean an investment of more than €60 billion over the next 5-10 years and, once completed, they will save 35 million tons of CO2 emissions per year
Hydrogen sector: industrialists are ready for the scale-up! The speakers of the CEOs high level panel – among whom Pascal Mauberger, CEO, McPhy – all agreed and sent the same collective message: the hydrogen industry is ready to scale up and bring down costs.
Strong signal and call from the automotive sector. The conference attendees also witnessed the joint call from the European Automobile Manufacturers' Association (ACEA), Hydrogen Europe and the International Road Transport Union (IRU) for the accelerated deployment of hydrogen refueling infrastructure across the EU.