Jupiter 1000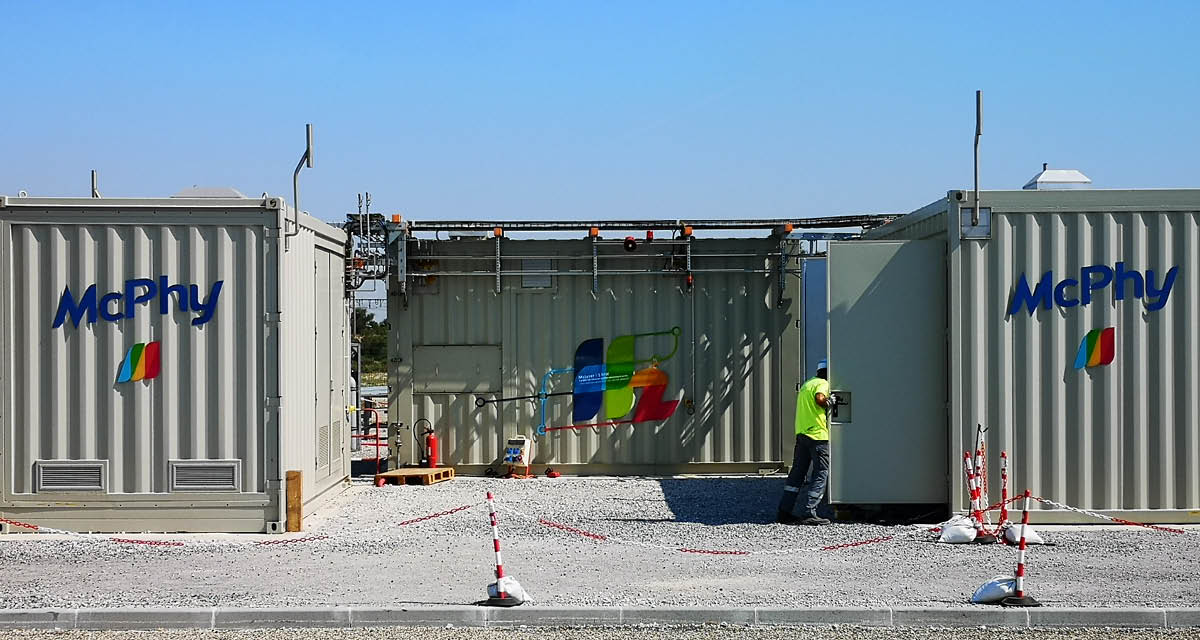 First Power-to-Gas project at a MW-scale in France
• GRTGaz has selected McPhy to equip the Jupiter 1000 project, which is preparing for the deployment of the Power to Gas network in France, with a 1 MW hydrogen production platform
• Testing the performance of two electrolysis technologies (alkaline & PEM) under real conditions and on a real scale
• Fos sur Mer, France | Commissioning: 2019
The project, whose main objectives are to build and operate a Power to Gas demonstrator with methanation, capture and recovery of CO2, is coordinated by GRTgaz.
McPhy supplies a 1 MW hydrogen platform equipment made of a 0.5 MW alkaline electrolyzer and a 0.5 MW PEM electrolyzer, Jupiter 1000 is the only project that will make it possible, in the medium term, to test the performance of those 2 electrolysis technologies under real conditions and on a real scale.
The McPhy electrolyzers, the real cornerstones of the project, will transform surplus electricity from renewable sources into hydrogen. This clean hydrogen will be injected into the natural gas grid directly or after its transformation into methane, the main component of natural gas.
Jupiter 1000 is the first Power to Gas project in France, aiming to store and valorize renewable electricity by injecting hydrogen and synthetic methane into the gas transmission network.
"After the Prenzlau hybrid power plant in Germany, which came on stream in November 2014, we provide the electrolysis technology that will produce clean hydrogen from renewable electricity in Fos-sur-Mer. This project is a first step in spreading the Power to Gas application in France. This sector has already proved its effectiveness in other countries in contributing to building essential new models for energy transition." | Pascal Mauberger, Chairman and CEO of McPhy.
| Markets
Learn more about the H2 applications in the section: "Markets".
| Equipment & Services
Electrolyzers in 1 MW configuration (1 alkaline electrolyzer 0.5 MW & 1 PEM electrolyzer 0.5 MW)
Learn more about the solutions in the section: "Equipment & Services".
| Customer
GRTGaz
Location: Fos sur Mer (France)
Commissioning : 2018
Visit the Jupiter 1000 website
Read the press release