World Hydrogen Fuels Summit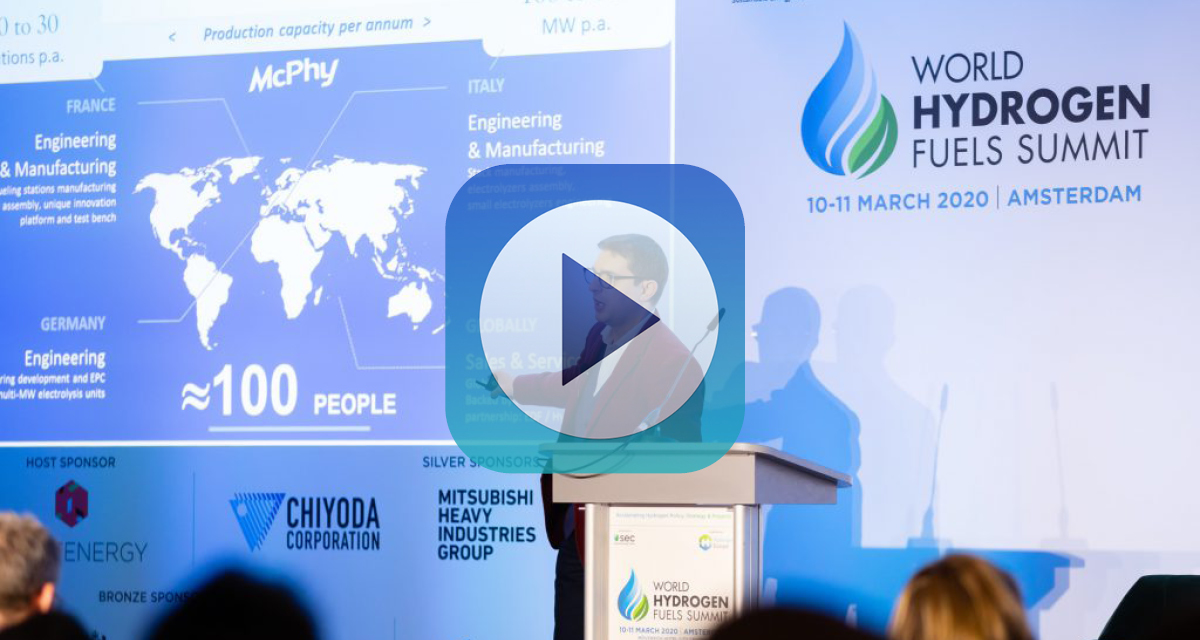 Watch the McPhy conference
Did you miss Florent BAUDU's pitch about zero-carbon hydrogen in the heavy industry during the World Hydrogen Fuels Summit? Here is an extract of the video. You can also discover the Executive Summary of the event, a true overview of the key insights shared in Amsterdam during the great World Hydrogen Fuel Summit.
First, let's recall that the WHFS gathered last March in Amsterdam all the hydrogen stakeholders in the room: politicians, oil giants, chemical and legislative experts, the summit created a breeding ground for collaboration and strategic planning that will enable a proactive coordinated shift towards Hydrogen!
This frontrunner project will allow to validate at real industrial scale McPhy pioneering electrolysis technology.
McPhy was on stage during the WHFS, with Florent Baudu, Sales Director in charge of Heavy Industry, sharing the early insights about the Djewels project, a first of its kind in the industrial hydrogen market. It is indeed the first zero-carbon hydrogen production unit at this scale (20 MW) to be implemented in Europe.
It's a true stepping stone to support zero-carbon hydrogen production at a large-scale, in line with the #EUGreenDeal vision of a carbon neutral Europe by 2050.
The project is led by Nouryon, a leading specialty chemical company, and Gasunie, a gas infrastructure company, with the support of four other partners: De Nora, McPhy, BioMCN and Hinicio. It is funded by a European grant from the Fuel Cells and Hydrogen Joint Undertaking (FCH-JU) and by Waddenfonds, a fund that invests in projects in the Netherlands.
To learn more about the project, read the Djewels press release : Industrial hydrogen: a 20 MW project in the Netherlands
To learn more about the technology that will be used in the project : Augmented McLyzer.
Executive Summary of the event