Augmented McFilling: a unique proprietary architecture that supports the decarbonization of the heavy-duty transport sector
Backed by state-of-the-art research & innovation, and a top-tier industrial infrastructure, McPhy has a strong position in the rapidly growing market of large-capacity stations for trucks, buses, trains or boats. More than just a hydrogen station, Augmented McFilling is an intelligent system combining a proprietary, patented architecture with software that makes it dynamically reconfigurable.
Augmented McFilling: as of 2 tons per day
A true concentration of technological and digital advances, "Augmented McFilling" is a patented, proprietary hydrogen station architecture that mutualizes compression, storage, cooling and vehicle delivery functions.
This innovative combination of shared functions and the dynamic reconfiguration of the station's operating diagram allows us to provide our Customers with an infinite number of usage scenarios, adapted to their needs in real time with complete transparency, without capacity limits.
Focus on our smart supervision software
Thanks to our smart software, the station defines its optimal operating scheme autonomously (without human input and without interruption of operation) and (re)directs the flows, from production to vehicle delivery, compression and storage, to deliver hydrogen at the best cost while ensuring continuity of service and a maximum availability rate.
Our smart supervision software greatly increases the availability and flexibility of hydrogen stations, and therefore meets the 24/7 needs of heavy-duty transports, while optimizing the system's energy efficiency; as well as investment and operating costs.
"Augmented McFilling": an innovative, proprietary and patented architecture integrating software intelligence that makes the hydrogen station dynamically reconfigurable:
For an infinite number of usage scenarios and real-time adaptation to Customer needs, with no capacity limits
In perfect adequacy with the massive hydrogen needs brought about through the necessary decarbonization of heavy-duty transports and long-distance vehicles (trains, trucks and buses)
This unique design of proprietary architecture and software intelligence:
allows the station to perfectly fit with Customer needs in real time,
is modular, with no capacity limits: 2,000, 4,000, 10,000 kg per day and beyond,
"Bigger scale, lower costs": the scaling-up and industrialization of hydrogen stations will reduce investment and operating costs and generalize the use of hydrogen mobility for all types of transport.
Discover our other H2 solutions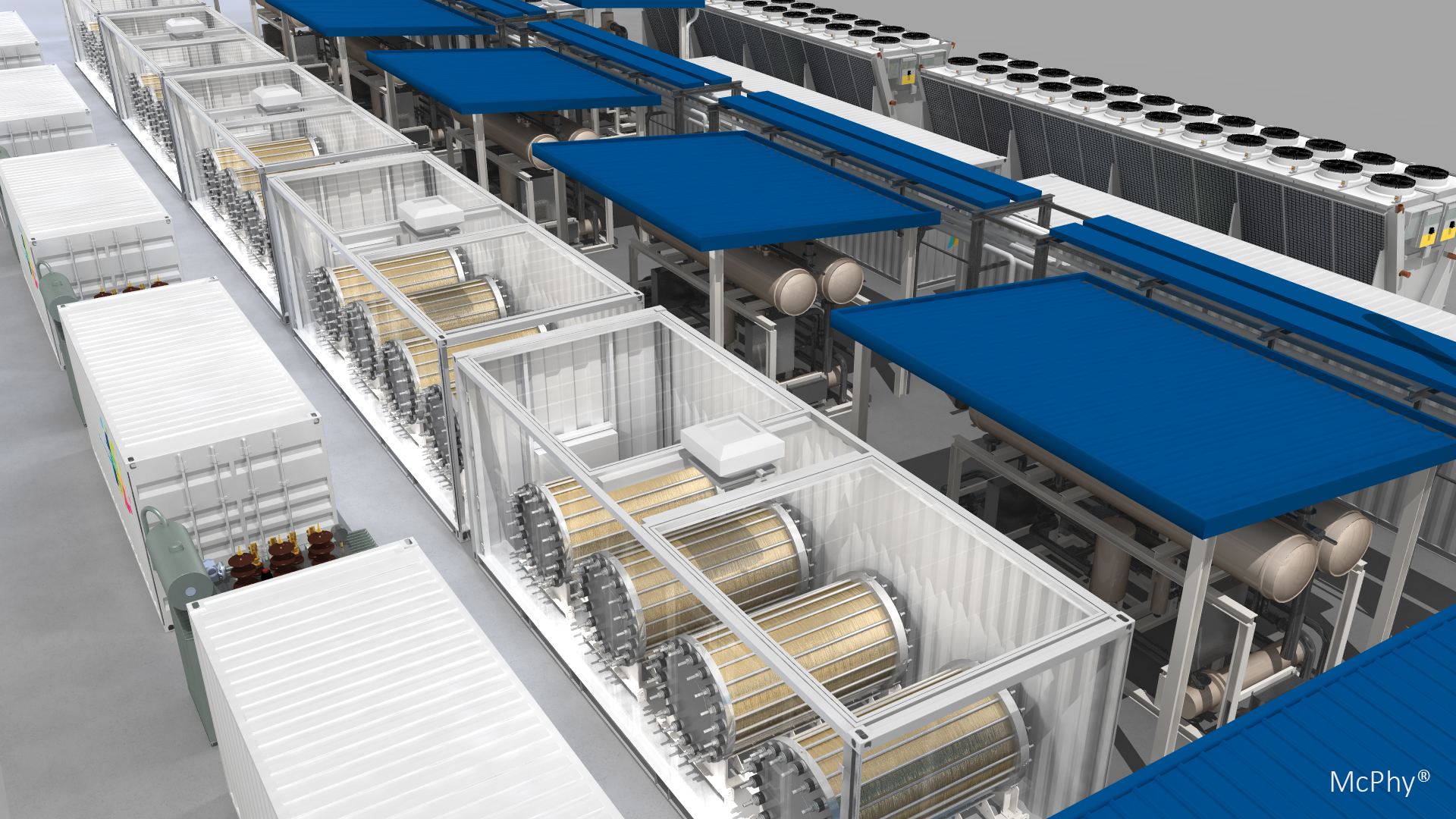 Electrolyzers | Augmented
Augmented McLyzer range
Large-scale electrolysis platform for large-scale hydrogen stations