Produce your hydrogen on-site, on demand, according to your specifications
Thanks to the fast dynamic response of our electrolyzers, the on-site hydrogen production is guaranteed, ensuring our customer the complete control of their processes and costs.
Piel and McLyzer: two complementary ranges of electrolyzers to cover all your needs
McPhy proposes the widest range of electrolyzers on the market.
From 0,4 to 800 Nm3/h, and above thanks to multi-MW designs, over a range of pressures from 1 to 30 bar, our electrolyzers are designed to cover all your needs in terms of flow rate, pressure and purity; from light applications (f.e.: jewellery) to multi MW designs (f.e.: heavy transportation or heavy industry).
Augmented McLyzer: new generation alkaline electrolysis for the 20 to +100 MW architectures
A true breakthrough technology, our "Augmented McLyzer" electrolyzers combine the reliability and the maturity of alkaline technology with great flexibility.
Based on a 4MW module design, our systems are created to scale up with your operating rhythm.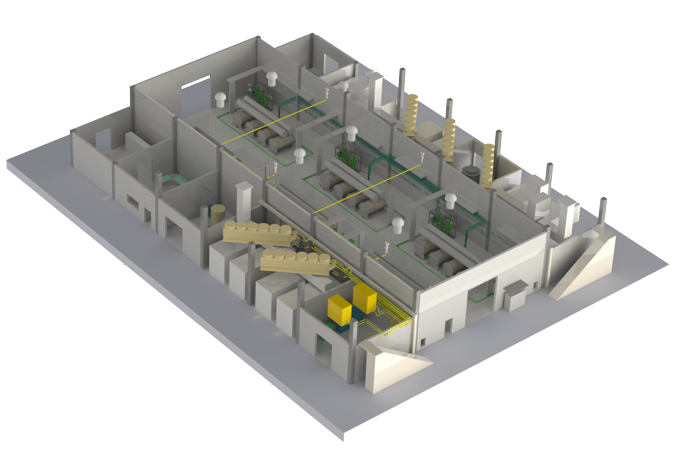 Large scale electrolysis
Augmented McLyzer
20, 100 MW and more at 30 bar
Clean hydrogen at a large-scale
LEARN MORE ABOUT OUR TECHNOLOGY
Hydrogen production by alkaline electrolysis:
the most mature technology on the market
With more than 1.000  installations, our equipment is recognized among the market leaders
Among the various hydrogen generation methods, McPhy has specialized in hydrogen production by alkaline electrolysis, which offers the following advantages:
IN SERIES:
Reliability: an industrialized, mature process
Rapid response time / Dynamic response: perfectly adapted to couple with renewable energies, for the continuous automated adaptation to fluctuating electricity
High-pressure production: up to 30 bar
High energy efficiency
Robustness: up to 80.000 hours of life for the stack
Performances:
Low electricity consumption: 4.5 kWh/Nm3 or 50 kWh/kg at the level of the stack at rated speed (100 %)
0 to 100% in less than 30 seconds and 100 to 0% in less than 5 seconds
Potential to deliver up to 130% of rated speed
Plug and play system: easy installation and function for an automatic operation and a low maintenance
Compact: integration facilitated to your infrastructure
Economic competitiveness
Low carbon footprint: in particular for coupling configurations with renewable energies
Supervision and continual improvement management
Augmented McLyzer, 
ADDITIONAL ADVANTAGES:
A modularized and scalable architecture: 20, 100 MW and more
A real technological breakthrough, thanks to a unique combination between our high-pressure alkaline electrolysis technology (30 bar) and the advanced electrodes of De Nora, which makes possible to:
Double the quantity of hydrogen produced
With the same stack size (reduced footprint)
And the same specific energy consumption
High energy efficiency
Drastic improvement of competitiveness.
Easy to install: stacks and BOP are manufactured by McPhy, on-site assembly is limited to interconnections
All of our products bear the CE marking and McPhy relies on organizations such as TüV for certifications.
Learn more by browsing our product's sections.
Water + Electricity = Hydrogen
Alkaline electrolysis, also called water electrolysis, is a process that enables hydrogen to be produced from electricity and water thanks to an electrochemical reaction.